Correct Tennis Shoes
Upkeep of court maintenance and player safety are two chief considerations for requiring all court users to wear correct tennis footwear.
Suitable Footwear for Porous Tennis Courts
Shoe soles must not have a raised pattern of any kind.
Any pattern variation must not exceed 4 mm.
Soles must be flat (no raised heel) with soft edges.
Herringbone pattern is the best sole to provide good grip on porous courts.
Examples of CORRECT Footwear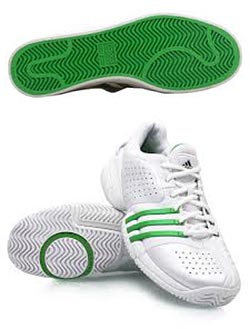 The only acceptable outersole for red porous courts is a herringbone pattern which is usually found on tennis specific shoes and selected cross trainers.
Examples of INCORRECT Footwear
Any shoe outersole which has a lugged pattern is unacceptable on red porous courts as it will chew up and leave marks across the surface, damaging their condition.
13 Sep 2020

RTC remains closed following the State Government's extension of… » Read more